AAUW Used Book Sale
Our  Used Book Sale Is Back!!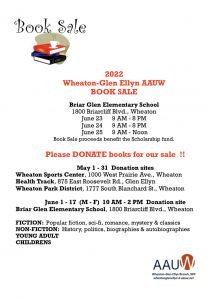 The AAUW Used Book Sale will return in grand style in 2022.  The collection of books and the sale will take place in the spacious, air conditioned confines of the Briar Glen Elementary School gymnasium at 1800 Briarcliffe Boulevard in Wheaton. A large parking lot is adjacent to the gymnasium with access to the building from the lot.
The collection and sorting of books will take place June 1 through June 17. 
The collection and sorting process will be scheduled Monday through Friday.  As planning continues, the hours will be posted here.  We urge everyone to begin collecting books from family, friends and neighbors.  We will be accepting the following types of books ONLY:
FICTION:  Including Science Fiction, Fantasy, Romance, Westerns, and Classics.
NON-FICTION:  Including History, Politics, Biographies, and Autobiographies.
MYSTERY
CHILDREN'S & YOUNG ADULT
NO:  Self-help, Cookbooks, Text books, Reference or Religion.
The Book Sale will be held Thursday and Friday, June 23 and 24 from 9:00 a.m. to 8:00 p.m. and Saturday, June 25 9:00 a.m. to Noon.
The profits from the book sale benefit our Wheaton-Glen Ellyn AAUW Branch Scholarship program.