AAUW Used Book Sale


2020 Book Sale



Opening Night:
Wed., May 6, 6-9 PM, $10 Admission (Adults);
Additional adult family members $5;
Children, accompanied by an adult, free.

Other Sale Days:
Thurs., May 7, 9 AM-8 PM, free admission
Fri., May 8, 9 AM-8 PM, free admission
Sat., May 9, 9 AM-2 PM,
free admission, Books by the Bag, $10 each.
Location:




First United Methodist Church


424 Forest Avenue, Glen Ellyn
(Enter from Forest Avenue — easy same floor access
and ample free parking nearby.)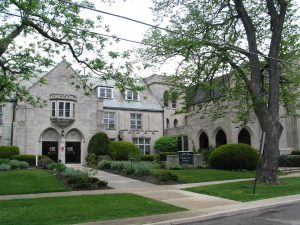 The First United Methodist Church is just 1/2 block east of the Glen Ellyn Civic Center, on the SW corner of Duane Street and Forest Avenue. Enter from the Forest Avenue door directly into the Church's lobby adjacent to the Great Hall and Dining room where the sale will be held. Free parking is available in the church lot and on side streets nearby. Also, you may park free in the commuter parking lots after 11 am weekdays and all day Saturday.
Why Do We Sell Books?
The AAUW Wheaton-Glen Ellyn Branch's main fundraiser is the annual Used Book Sale. Each year, the sale is scheduled for 3 or 4 days in May. We sell more than 30,000 volumes to the community and visitors from surrounding states. Proceeds fund COD scholarships locally and support the mission of AAUW's national organization.
Contact Ewa for general information about the Book Sale. Note that we will begin accepting donations for the 2020 sale October 1, 2019.
Like Wheaton-Glen Ellyn AAUW Used Book Sale on Facebook.
General Book Donation Guidelines:
We accept all books, including audiobooks, DVDs and CDs.  We do not take magazines, textbooks, VHS videos, Readers Digest Condensed books or encyclopedias.
We especially love to receive collectible books.   These are not just "old" books but can be books on special topics, books with collectible pictures, first editions with pristine dust jackets, unique children's books in excellent condition, art books and other "coffee-table" books.  So, please consider donating one of your treasured volumes.  We promise to value it, to find a good home for it, and to use the proceeds from your rare and special book to support education for some lucky woman.
"Curios and collectibles" are a special category.  We always welcome that amazing book that is too special to give away without finding just the right owner.  Our appraiser helps us evaluate such books so don't fear that their value will be overlooked.  We will find the right place for them.
Moving along a rare book, a scarce book, a book of considerable worth, is an act of recycling with a cultural value.
— Curio Chair, Ewa Bacon
You can help us out by being on the lookout for such treasures—at home, among friends and family, and even at estate sales where they may be hidden.
You may drop off your book donations at two local realtors:
Wheaton:  ReMax Suburban, 1417 N. Main Street, Wheaton. Tel. (630) 653-1900
Glen Ellyn: ReMax Suburban, 441 Taft Avenue, Glen Ellyn. Tel. (630) 790-1776
If you have a large donation, contact Carolyn to arrange for a pickup.
Note to Members:
Members find that working on the Used Book Sale is a great way to meet people while contributing to AAUW, the nation's oldest and largest source of scholarship funding for women.
Volunteers Needed
We need volunteers throughout the year to pick up books from the drop off locations and to sort books in the storage area (when scheduled). Watch for announcements in Twigs or email Marilyn to add your name to the regular sorters' email list.
To volunteer for book pick ups, email Carolyn.
If you would like to help with sorting books or the estate sale collection efforts, email Marilyn. Further details on dates and times for sorting books and the warehouse location can be found on the Members Only page. Contact Jane if you have forgotten the password for the Members Only page.
On the Monday before the, sale we move the books from the locker to the Civic Center.  At the Civic Center, we need help opening the boxes and displaying the books on tables.  Volunteers are requested to sign up for one or more 3-hour shifts on the two and a half days prior to the sale.
No heavy lifting for our members – we hire movers for that!  To find out how else you can help with the Book Sale, email Ewa or Marilyn.
Our book sale is also listed with: