Click for current 

TWIGS newsletter
Note that the branch has two major fundraisers planned for 2020: LUNAFEST Film Festival on April 25, 2020 and the AAUW Used Book Sale May 6-9, 2020. Scroll down for more information on each of these fundraisers.
Our next all-branch event is the February Branch meeting. Please join us!
Next Branch Meeting
Wednesday, February 6, 2020
Women: Hidden Figures?
We celebrate Women's History and Black History with our speaker Kidada Robinson from Aurora University.  She is currently the Senior Graduate Advising Manager and Director of the Graduate center.  She will speak on the empowerment of women as seen throughout history.
7:00 PM
The Glen Ellyn History Center
800 N. Main Street, Glen Ellyn

The branch has two major fundraisers planned for 2020: LUNAFEST Film Festival
on April 25, 2020 and the AAUW Used Book Sale May 6-9, 2020.
Scroll down for more information on each of these fundraisers.

AAUW Used Book Sale




2020 Book Sale



Opening Night:
Wed., May 6, 6-9 PM, $10 Admission (Adults);
Additional adult family members $5;
Children, accompanied by an adult, free.

Other Sale Days:
Thurs., May 7, 9 AM-8 PM, free admission
Fri., May 8, 9 AM-8 PM, free admission
Sat., May 9, 9 AM-2 PM,
free admission, Books by the Bag, $10 each.
Location:




First United Methodist Church


424 Forest Avenue, Glen Ellyn
(Enter from Forest Avenue — easy same floor access
and ample free parking nearby.)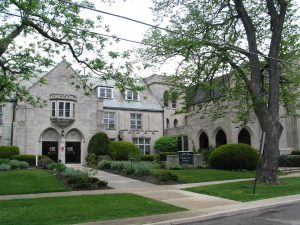 The First United Methodist Church is just 1/2 block east of the Glen Ellyn Civic Center, on the SW corner of Duane Street and Forest Avenue. Enter from the Forest Avenue door directly into the Church's lobby adjacent to the Great Hall and Dining room where the sale will be held. Free parking is available in the church lot and on side streets nearby. Also, you may park free in the commuter parking lots after 11 am weekdays and all day Saturday.
For more information on the Book Sale, Click Here.
Members: If you would like to help with sorting books or the estate sale collection efforts, please click here for further details. Contact Jane for the password for the Members Only page.

LUNAFEST 2020
Saturday

, April 25 at 5:00 PM




The Center Stage Theater




1665 Quincy Avenue, Suite 131




Naperville, IL  60540
The Wheaton-Glen Ellyn Branch of AAUW  will hold the Second Annual LUNAFEST on April 25, 2020.  LUNAFEST is an international film festival featuring short films made by, for, and about women.  The film festival is compiled by LUNA Bar.  As Kit Crawford, founder and co-CEO of LUNA says, they are "telling stories that have to be told."
The reception at 5:00 will feature Chef Terrell's delicious hors d'oeuvres and a cash bar.  The films will begin at 5:45 PM.  At the dessert Intermission a Gift Card Raffle will be held.
Tickets are $35.00 and can be purchased through Eventbrite or by contacting Suzanne or Ruth.
PURL,  BALLET AFTER DARK,  THERE YOU ARE,  XMAS CAKE-THIS AMERICAN SHELF LIFE, GAME, LADY PARTS, and HOW TO SWIM.
Funds from this event support the AAUW's strategic goal of Education and Training for women.

AAUW's Mission:



To advance gender equity for women and girls through research, education, and advocacy.
The American Association of University Women (AAUW) is the nation's leading voice promoting equity and education for women and girls. Since our founding in 1881, AAUW members have examined and taken positions on the fundamental issues of the day — educational, social, economic, and political.  Join us!
In principle and in practice, AAUW values and seeks a diverse membership. There shall be no barriers to full participation in this organization on the basis of gender, race, creed, age, sexual orientation, national origin, disability, or class.

SMILE.AMAZON.COM
When you shop on Amazon, first go to smile.amazon.com and select AAUW Wheaton-Glen Ellyn Branch, NFP.  By doing so, 0.5% of your purchase will be donated to the branch. It may not seem like much of a donation for a single purchase, but if we all remember to include smile.amazon.com in our purchases, it can add up to real money in support of our mission. Amazon has donated $69 to the branch since November 2018. Thank you in advance!