Click for current

TWIGS newsletter
Next Branch Event:
Saturday, October 10, 2020
Join us for a discussion on Diversity and Inclusion. Members will view two recently produced AAUW webinars on diversity and Inclusion, followed by small, socially distanced, group discussions at members' homes and a Zoom discussion.
Please independently view both webinars below sponsored by National AAUW prior to our meetings on October 10th:
Holding Space: How to Start & Continue Conversations on Race, Equity, & Inclusion (66 min.)
Convening: Is Your Perspective Inclusive? ( 64 min.)
Both webinars can be accessed by going to: YouTube AAUW webinars OR AAUW : Webinar Series. Use the drop down feature to find the above mentioned webinars.
Contact Frankie for further details.

Fundraising Walk to Commemorate the
100th Anniversary of Women's Suffrage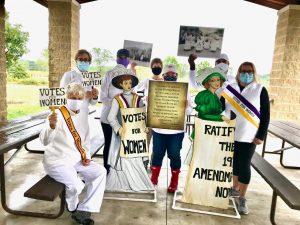 On Friday, September 11, 2020, a small but enthusiastic group of members marched in the rain to commemorate the 100th anniversary of women's suffrage. Contributions in support of the event will support the Branch's Educational Opportunities Fund.
Contributions are still being accepted. Make your check payable to AAUW Wheaton-Glen Ellyn Branch, NFP.  All donations are tax deductible.

Branch Activity Updates:
Our new Branch initiative,

Science Girls on the Go,

is reaching parents looking for at home STEM activities during the pandemic. Click here for more information.

The

Used Book Sale

is planned for May 2021. Date to be announced soon.

The Lunafest Film Festival is planned for

May 1, 2021.

Members: Sign Up for 2020-21 Interest Groups
This year, many Branch Interest Groups are meeting by Zoom or in small groups until pandemic restrictions are lifted. Keep up to date on Branch events and meetings by receiving email updates from group leaders and committee chairs:
The Branch's Public Policy Committee has been very active this year. Contact Patricia to join the email list. No meetings are involved but being on the email list will keep you informed of action items in state legislature or Congress related to AAUW's public policy positions.
AM Lit

meets the first Friday of each month by Zoom at 9:30 AM. Contact Jean to add your name to the email updates. Click here for this year's reading list.

AM Non-fiction

meets October, December, February, April and June by Zoom at 10:00 AM. Contact Sue to add your name to the email updates.

Click here

for this year's reading list.

PM Lit

meets the third Monday of each month in a small group outdoors (weather permitting) or by Zoom at 7:00 PM. Contact

Susie

to add your name to the email updates. Click here for this year's reading list.

PM Non-fiction

meets September, November, January, March, May and July by Zoom at 7:00 PM. Contact

Ewa

to add your name to the email updates.

Click here

for this year's reading list.
Film Group — In the era of COVID, we will meet in an open air setting on October 10. From November on, we will meet on Zoom until further notice on 2nd Saturday of each month. Contact Anne to add your name to email updates, receive notice of the film to be discussed and other details.
The Spice Routes Dinners are currently on hiatus due to the pandemic. Contact Peggy to add your name to the group email list so that you will be notified when dinners resume.

What is AAUW?
AAUW's Mission

:



To advance gender equity for women and girls through research, education, and advocacy.
The American Association of University Women (AAUW) is the nation's leading voice promoting equity and education for women and girls. Since our founding in 1881, AAUW members have examined and taken positions on the fundamental issues of the day — educational, social, economic, and political. Click here for more information on AAUW's Mission, Vision and Values.  Join us!
As AAUW continues to move forward in a changing world, so have our Strategic Plan and our Vision Statement. Click here to read the complete plan.

SMILE.AMAZON.COM
When you shop on Amazon, first go to smile.amazon.com and select AAUW Wheaton-Glen Ellyn Branch, NFP.  By doing so, 0.5% of your purchase will be donated to the branch. It may not seem like much of a donation for a single purchase, but if we all remember to include smile.amazon.com in our purchases, it can add up to real money in support of our mission. Amazon has donated more than $100 to the branch since November 2018. Thank you in advance!