Click for current 

TWIGS newsletter
Thank you to all of you, members, customers and community members who donated books.  You all helped to make the 2019 Book Sale a great success!
Why do we collect and sell used books?
The AAUW Wheaton-Glen Ellyn Branch's main fundraiser is the annual AAUW Used Book Sale. Each year, we sell more than 35,000 volumes to members of the community and visitors from surrounding states. Proceeds fund fellowships and grants nationally and COD scholarships locally.  AAUW Wheaton-Glen Ellyn Branch, NFP is a 501(c)(3) tax exempt organization.  AAUW stands for American Association of University Women, a national organization founded in 1881.
For more information:
2018 Book Sale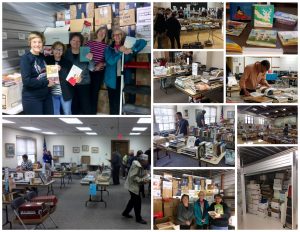 AAUW – Our Mission:


Advancing equity for women and girls through advocacy, education, philanthropy, and research.

The American Association of University Women (AAUW) is the nation's leading voice promoting equity and education for women and girls. Since our founding in 1881, AAUW members have examined and taken positions on the fundamental issues of the day — educational, social, economic, and political.  Join us!

In principle and in practice, AAUW values and seeks a diverse membership. There shall be no barriers to full participation in this organization on the basis of gender, race, creed, age, sexual orientation, national origin, disability, or class.

SMILE.AMAZON.COM
When you shop on Amazon, first go to smile.amazon.com and select AAUW Wheaton-Glen Ellyn Branch, NFP.  By doing so, 0.5% of your purchase will be donated to the branch. It may not seem like much of a donation for a single purchase, but if we all remember to include smile.amazon.com in our purchases, it can add up to real money in support of our mission. Amazon has donated $69 to the branch since November 2018. Thank you in advance!