Don't Forget to Vote in the DuPage County Consolidated Election April 4!
Among other community leadership positions, this election includes School Board candidates. To help you assess whether School Board candidates align with AAUW values, Branch leadership emailed questions to each of the 30 candidates in Districts 41, 87, 89 and CUSD 200. For further information on this project and to review the responses received to those questions, click here. After a careful evaluation of the 17 responses received, Branch leadership identified which candidates appear to align with AAUW values. Their evaluations are available on the Members Only page (password protected). Click here to access this information.

Upcoming Events: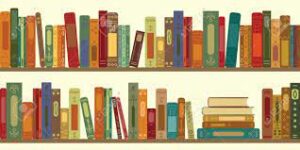 One of DuPage County's Premier Literacy Events – The AAUW Wheaton-Glen Ellyn Branch 2023 Used Book Sale!!
Location:  Forest Glen Elementary School, 561 Elm Street, Glen Ellyn
Dates:  Thursday, June 22,  8 AM – 8 PM
              Friday, June 23, 8 AM – 8 PM
              Saturday, June 24, 9 AM to 1 PM
Types of Books to Collect:  Fiction/Mystery, Non-Fiction/Biography, Children's/Young Adult, Better Books
Interested in donating books?  Please bring them to Forest Glen Elementary School beginning June 7th.
Click here
for a form that can be stapled to bags used during the book collection process.
The profits from the book sale benefit our Wheaton-Glen Ellyn AAUW Branch Scholarship program.


All-Branch Meeting-  Wednesday, March 1, 2023, 7:00 p.m., Glen Ellyn Police Station Community Room, 65 S. Park Blvd., Glen Ellyn and via Zoom
Program-  How to Create Resilient, Equitable Communities in a COVID World

Speaker-  Kelwin Harris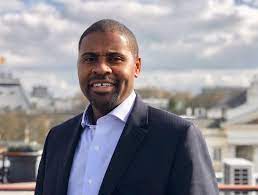 Kelwin Harris is a city planner and public engagement professional with more than 15 years of experience working to dismantle inequality in Chicago communities and empower people that have historically been excluded from connectivity.  He has worked as a senior planner providing technical assistance to cities and organizations and led grassroots neighborhood organizations on the South Side of Chicago.
Kelwin holds a Bachelor's Degree in City & Regional Planning from Cornell University, a Master's Degree in Urban Planning from the Harvard University Graduate School of Design and a Professional Certificate in Municipal Finance from the University of Chicago Harris School of Public Policy.
The Chicago region faces serious threats; growth is uneven; neighborhoods are struggling; and the streets are erupting in protest as COVID-19 has made existing inequalities worse.  Now, more than ever, Chicago must address racial equity and provide strategies for prosperity for the good of everyone.  Drawing from his experience as a community leader on the South Side of Chicago and as an urban planner, Kelwin Harris uses an equity lens to discuss multiple facets of systemic racism that persists and offers strategies and interventions for the road ahead.

March Calendar

March 1 – Branch Meeting, 7:00 p.m., Glen Ellyn Police Station Community Room, 65 South Park Blvd., Glen Ellyn and available via Zoom
March 3 – AM Lit., 9:30 a.m., Glen Ellyn Public Library, 1st Floor Meeting Room, 400 Duane St., Glen Ellyn
March 8 – Board Meeting, 7:00 p.m., Patricia Spence's home
March 11 – Film Group, 7:00 p.m., Jean Lindsey's home
March 20 – PM Lit., 7:00 p.m., TBD
March 22 – PM Non-Fiction, 7:00 p.m., Marilyn Wiedemann's home
April 4 – Consolidated Election Day
April 6 – AAUW National Election, Vote online beginning April 6
April 18 – Andy Warhol Lecture, 7:00 p.m., Glen Ellyn Public Library, 1st Floor Meeting Room, 400 Duane St., Glen Ellyn
May 5-6 – AAUW State Convention, Friday evening and Saturday, East Peoria Riverfront Hotel & Conference Center, 100 Conference Center Drive, East Peoria, IL  61611 (see details in the March issue of Twigs)
* Members: Click here to access Twigs. Password required. Click here for assistance.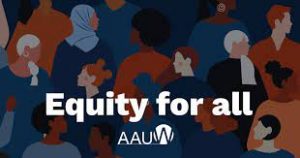 AAUW CEO Gloria Blackwell issued the following statement strongly condemning the US Supreme Court's opinion in Dobbs v. Jackson Women's Health Organization:
The American Association of University Women (AAUW) strongly condemns the U.S. Supreme Court's decision in Dobbs v. Jackson Women's Health Organization. The decision overturns the landmark Roe v. Wade ruling that established abortion as a constitutionally protected right nearly 50 years ago and ignores the will of the American people, 80% of whom support legal abortion.
AAUW believes everyone has the right to make decisions about their own reproductive lives without government interference. Abortion access is vital to women's ability to control their lives, bodies and futures. Without reproductive freedom, there can be no equity.
Being able to choose whether and when to become a parent improves women's well-being and fosters economic security—a crucial component of AAUW's mission. This is particularly important in a country that lacks accessible maternal health care, paid caregiving leave and workplace protections for pregnant workers.
The Court's decision hurts all of us, but it will do the most harm to low-income people, women of color, immigrants, people with disabilities and LGBTQ+ people, because these
groups already face substantial barriers to accessing reproductive services and health care.
While the Court's decision is a major setback for all Americans, AAUW remains steadfast in our commitment to protecting reproductive rights, a vital component of gender equity.

Other Branch Activity Updates:
Our new Branch initiative, Science Girls on the Go©, is reaching parents looking for at home STEM activities during the pandemic.

Click here

for more information.

Click here

if you would like to donate to the Branch's Educational Opportunities Fund. This fund annually provides Higher Education Incentive Awards to girls from local high schools who are continuing their education at the College of DuPage. 

What is AAUW?
AAUW's Mission:
To advance gender equity for women and girls through research, education, and advocacy.
The American Association of University Women (AAUW) is the nation's leading voice promoting equity and education for women and girls. Since our founding in 1881, AAUW members have examined and taken positions on the fundamental issues of the day — educational, social, economic, and political. Click here for more information on AAUW's Mission, Vision and Values.  Join us!
As AAUW continues to move forward in a changing world, so have our Strategic Plan and our Vision Statement. Click here to read the complete plan.