Become a member of the AAUW Wheaton-Glen Ellyn Branch, NFP and join a powerful network of educated women!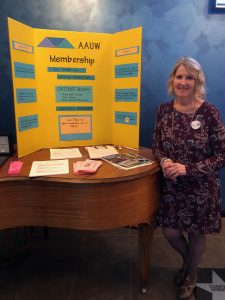 Membership is open to those holding an associate, baccalaureate, or higher degree from a qualified educational institution or a degree from a qualifying foreign institution.  Students may also join as Student Affiliates.
Regular annual membership dues are $88.00 for fiscal 2019-20 (through June 30, 2020).  $75.00 of the annual dues payment is tax deductible.  For further information about the tax deductibility of the dues payment, click here.  
If you have questions, email our Vice President, Membership, Karen.
The AAUW Value Promise:
By joining AAUW, you belong to a community that
breaks through educational and economic barriers
SO ALL WOMEN HAVE A FAIR CHANCE!
Branch Membership:                          3/1/2019  132